ALMA ANGEL HAIR (Pet Shampoo)
[
AH0071
]
ALMA ANGEL HAIR (Pet Shampoo)
[
AH0071
]


Price: JPY5,600(tax incl.)
Weight: 300g
Stock Quantity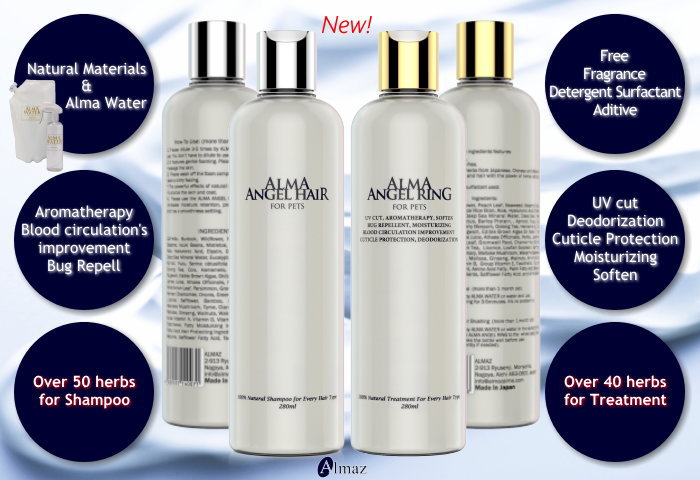 Can be shipped from FEBRUARY 1, 2020
ALMA ANGEL HAIR (SHAMPOO)
Prevents and ameliorates damage of the hair such as split hair and hair breakage, and imparting excellent moist feeling, smoothness and goodness of settling. Recommended for delicate puppies and sensitive skin.
HISTORY OF DETERGENTS
Many conventional detergent manufacturers used natural minerals, plants and animals as they are or after processed them. They used the surface-active action of the Saponin, a plant component. The market price of animal and vegetable oils and fats was unstable, and during the war there was a shortage of oil and fats. Therefore, synthetic detergent "Petrochemical surfactant" was developed as a raw material other than fats and oils. Such synthetic detergents are toxic to humans and the environment and have become a problem. In recent years, demand has returned to a natural orientation.
WHY IS IT SO IMPORTANT TO BE BODY FRIENDLY?
Because the thickness of the stratum corneum that protects the skin from external factors in the dog's epidermis is only 1/3 that of the human's, and the thickness of the dog's epidermis is only 1/6 that of the human's. In addition, dog's hair is very easily damaged because it is only about half as thick as human's.
Main component features of the shampoo from Almaz.
1. 100% natural materials
2. Fragrance-free, additive-free
3. Using over 50 kinds of herbs from Japanese, Chinese and Western
4. Wash and protect skin and hair with the power of herbal extracts and herbs
5. No synthetic detergent surfactant used
6. Use natural cleaning ingredients
How-To-Use:
1. Please dilute 3-5 times by ALMA WATER or water and use. You don't have to dilute to use depending on the dirt.
2. It features gentle foaming. Please wash as if you gently massage the skin.
3. Please wash off the foam completely. It's no problem to leave a slimy feeling.
* The powerful effects of natural ingredients protect and moisturize the skin and coat.
4. Please use the ALMA ANGEL RING, a treatment that increases moisture retention, prevents static electricity and has a smoothness settling.
Ingredients:
Camellia, Burdock, Wildflower, Peach Leaf, Seaweed, Sesame, Azuki Beans, Mistletoe, Noni Juice, Rice Bran, Aloe, Hyaluronic Acid, Elastin, Collagen, Pearl Protein, Deep Sea Mineral Water, Eucalyptus, etc. over 50 natural herbs (indicated on the bottle) and Alma Water
ALMA ANGEL HAIR (Pet Shampoo)
[
AH0071
]


Price: JPY5,600(tax incl.)
Weight: 300g
Stock Quantity